Code Puncher Snippet Tools
An advanced scripting tool set geared towards versatility and function within Maya.
Useful for both technical artists, and non-technical artists.
Manage, Access and Share any number of code snippets.
Non-destructively modify scripts on the fly.
Easily Import/Export code from existing script editor tabs, or external files.
Use Searching and Tagging to quickly find any script.
Modularize your coding by mixing  and matching code snippets.
Manual
Version Info
Python  script, tested with Maya 2015, 2014, 2013, Linux, Windows and Mac
beta 2014-10-19-20:26, [lastupdated]
Basic Usage
Codepuncher is a hybrid tool that combines some aspects of an IDE with the benefits of working directly in maya. One advantage  of this  tool is that it can keep any number of code snippets organized and ready to use at any time, as well as being able to tailor scripts on the fly non-destructively through the Simple Component Editor.
Basic Editing
' + '
Click here to clear the editor to make a new script.
Save
Save your script.
Sticky/Read Only
Convenient tag checkboxes for sticky and read only tags.
Format Dropdown
Switch the editor between Python, MEL, and text files. This will change the syntax highlighting mode, and make it possible to run the corresponding code.
Right Click Menu

Run

Run the entire script in the editor window.

Run Selected

Run only the highlighted code.
The return key also does this.

Save

Store any changes to your script

Save and Run
Store the script and Run it.
Layouts
[one_half class=""]
Simple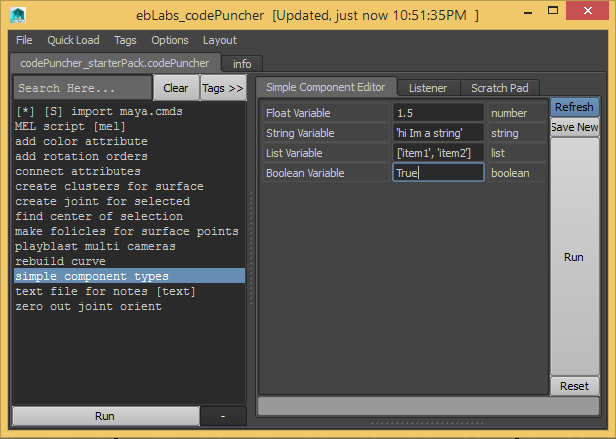 [/one_half] [one_half class=""]
Full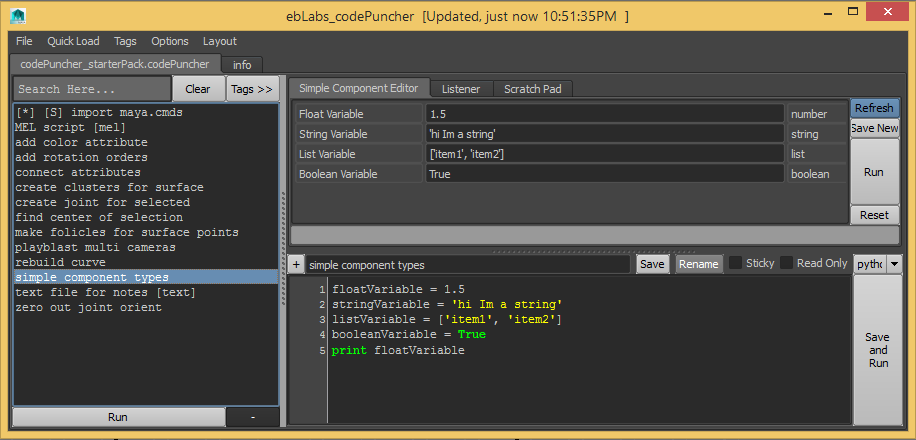 [/one_half] [separator line="yes" margin="30″]
Main Code Puncher Window
Top Menu Bar
File
Import/Export Native Files

Import  From Script Editor Tabs

This will import all current tabs from the script editor into the current CodePuncher Window.

Import From Files

Select any Python or MEL files you would like to import.

Export Selected

Export selected code snippets into their native format files(.mel, .py, .txt). Your scripts will never be locked into the  tool, you can always save out your scripts to native files at any time.

Load

Choose a .codepuncher file to load.

Save/Save As

Save your current session, or save to a new file.

Import

Choose a .codepuncher file to Import.

Export Selected

Export selected snippets to a .codepuncher file.

Load

Choose a .codepuncher file to load.

Save/Save As

Save your current session, or save to a new file.

Import

Choose a .codepuncher file to Import.

Export Selected

Export selected snippets to a .codepuncher file.

Quickload
 By default this will give you a list of files from your maya/scripts folder. Although if you are using the custom launch command, you can add share folders as well as read-only share folders. Please see commands above.
Tags

Options to toggle tags on selected snippets as well as for showing/hiding snippets of various tags. You can use this to also create new tags.

There are several default tags that will always be in the list,

Untagged

This tag is  automatically  attached to snippets without any tags.

readOnly

This will prevent a snippet from being deleted or changed in any way.

Startup

Any snippet with this tag will be run when you start the CodePuncher Tool. This is a great tag to use for all your imports (eg. import maya.cmds as cmds).

Sticky

This will keep snippets tagged with sticky sorted at the top of the list.

Options
Various tool options and cucustomization

Preferred Type

You can choose from Python, MEL, or Text. New code snippets will default to your choice here. Also snippets that aren't the default type will have a small label next to the name to indicate their type.

Sort By

Sort code snippets by Name, Recently Edited or Most Used.

Save Every 5 Minutes

The tool will save your work every time you run your code and a change is detected. Although if you're busy coding for a long time without actually running anything, this is helpful to have running if maya crashes.

Echo All Commands

Same as in the script editor, the listener tab will echo all of the maya commands that run.'

Auto Complete

This enables an auto complete feature  when you are typing.

Clear All Data

Wipes all snippets from memory.

Layout

Simple

A simpler UI that is more streamedlined for non-technical Artists. It has a list of code snippets and a larger Simple Component Editor window.

Full

For technical artists, this mode will display all UI elements.
[separator line="yes" margin="30″]
Snippets, Tags and Searching
[separator line="yes" margin="30″]
Code Snippet List
 The list on the left will show you all of your code snippets. Looks for the following markers.

[*] Sticky, snippets that will stay at the top of the list
[S] Startup, these are run automatically on launching CodePuncher
[R] Read Only, protected scripts that cant be edited.
[MEL]
[Python]
[Text]

Right click for additional options.

Realtime Searching
 As you type, the display will update.

You can simply start typing words or fragments of words to find matching scripts.
Also use Sublime style searching where you can search by typing  the first letter of each word in sequence. For example "playblast multi cameras", can be found by typing "pmc".

Tags >>
 This button will expand the tags window. Use this for toggling visibility quickly.
Run
Run one or more selected code snippets.
" – "
Delete selected snippets.
[separator line="yes" margin="30″]
Simple Component Editor
[separator line="yes" margin="30″]
Simple Component Editor Tab

This tab will automatically generate a UI for your code snippets. One thing to note, Simple Component variables are globally shared. So if you add your own value to a variable for

eg, MainObject =  'pCube'.

Any other Simple Component UI generated for another code snippet will automatically get this modification. If you keep this in mind, you can get all of your scripts working together.

Right click on text fields
 For each variable type, there are popup options.

Number

Insert Current Frame
Insert Start Frame
Insert End Frame
Run Calculator, this will evaluate any simple expression you enter. eg. 5+2

String

Insert Selected Item
Insert Selected Attribute
Insert File Name
Insert Folder Path

List

Insert Selected Items
Insert Selected Attributes
Insert File Names

Boolean

Refresh
This will update the UI to reflect any modifications you've made to the code.
Save New
Save your edits as a new script.
Run
Run the script with your modified values.
Reset
Reset the values to their originals.
Output Field Below
There is an output region right below that will display simplified error messages, or other info after a script has run.
[separator line="yes" margin="30″]
Example Script Starter Pack
[separator line="yes" margin="30″]
Sample Pack
Included is a sample pack of tools. Some are designed to well with the simple component editor, and some are designed to be run without options.
Tips

There are a lot of possible ways to mix and match scripts to work together. Use your creativity to find new ways to combine tools, as well as how to modularize your workflow.

One fun approach that we've tried in a studio environment is  share our working folders with other artists. That way our bits of code can be used by other artists and can be shared like a library. Check out the advanced launch code above on how to set this up.
Installation and Setup
Simple Setup
from

ebLabs_codePuncher

import

*
Advanced Setup
This method allows for setting up share folders that are either  Read-Only or regular paths for reading/writing.
import

ebLabs_codePuncher

from

ebLabs_codePuncher

import

*

shareFolder

[

'MyStuff'

]

=

'/home/myUserId/myCodePuncherFolder'

shareFolder_readOnly

=

{

}

shareFolder_readOnly

[

'Mike'

]

=

'/home/mike/maya/scripts'

shareFolder_readOnly

[

'Steve'

]

=

'/home/steve/maya/scripts'

shareFolder_readOnly

[

'Eric'

]

=

'/home/eric/maya/scripts'

ebLabs_codePuncher

.

UI

(

shareFolder_readOnly

=

shareFolder_readOnly

,

shareFolder

=

shareFolder

)