Update // World Space 2 Now Available Here:
World Space Tools
Advanced animation tools for manipulating animation and switching between local, world space and other parent spaces. Animator friendly, uses only existing key frames that the animator sets. Works for virtually any control type or rig.
Edit your animation in world/local/other parent spaces.
Easily and quickly send animation back to your original object.
Really useful for fixing up foot sliding with cycled animation.
Animator friendly, only uses keyframes the animator creates.
Can process multiple objects at once.
Extremely flexible, can be used on nearly any type of animation control, or rig.
Installation
Save "ebLabs_worldSpace.mel" to your maya scripts folder.
Add the following command and icon to a shelf button (or hotkey).
Manual
Version Info
MEL script, tested with Maya 2009+, Linux, Windows and Mac
v3.6.7, [lastupdated]
World Space Tools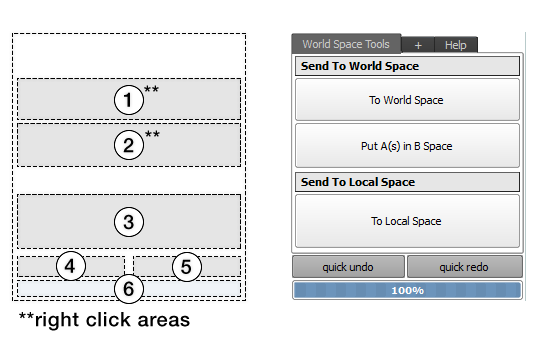 | | |
| --- | --- |
| (1) To World Space | This is where you begin, select your objects and click here. A temporary control object will be created in world space that matches your original animation. Make any changes you need to using  these new control objects. If necessary they can be resized in the channel box. No worries, if not all channels are keyable, the tool should be able to figure out how to handle almost any control type. |
| ** [Translation-Only] | **Right click to see this option, this will create a world space control that only controls the translation. |
| ** [Rotation-Only] | **Right click to see this option, creates a rotation only world space control. |
| ** [Detached Control] | **Right click to see this option, create a world space control that has no connection to your object. This is handy for creating a reference object that has the same animation as your control but in world space. |
| (2) Put A in B space | This tool works by selecting two objects. Similar to the above tool, but this one  allows you to edit your animation using another objects parent space. ex, if your character is holding a gun with both hands  in front  of his body, it makes it easy to edit the hands relative to the chest. You could even use this to stabilize a control to a moving object, the sky's the limit. |
| ** [Translation-Only] and [Rotation-Only] | **Right click to access similar rotation-only and translation only A-in-B-Space controls. |
| (3) To Local Space | This is how you return the animation back to your original control objects. Just select all your temporary controls, and click here. Your animation will be transferred back, using only the keyframes you created (not baked every frame). |
| (4), (5) Quick Undo/Redo | The reason this tool is so fast, is because it disables the maya UI while its running. If you need to undo/redo a "send to local space", it will save you lots of time waiting. |
| (6) Progress Bar | It shouldn't take too long, but keep an eye here for how things are going. |
+ Tab
Some helpful extra tools can be found here.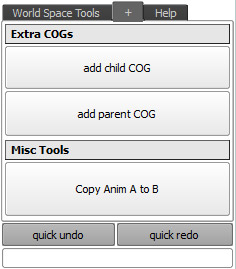 | | |
| --- | --- |
| add child COG | This is for adding extra offset controls to a worldSpace control. |
| add parent COG | This will add an extra offset control centered at the origin of the parent space. This is pretty cool actually if you use it with "put A in B space". |
| Copy Anim A to B | This will copy animation from one object to another in world space. |
Help Tab
Check out the version and some nice ascii art here.