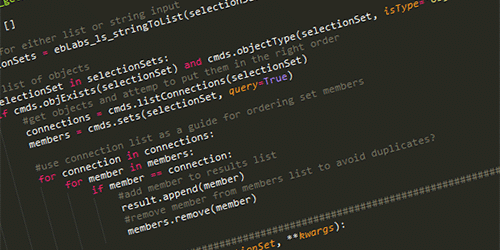 Maya Playblast to RV Tool
A small tool for playblasting directly to RV from Maya.
How to Use
Download
Setup
This tool is pretty simple to customize. Make sure to save this to your scripts folder as, "ebLabs_playBlastRV.mel". Heres the basic format: ebLabs_playBlastRV(imageWidth, imageHeight, aspectRatio, matteOpacity);
imageWidth – the width in pixels of your image sequence, eg, 1280, 1920, etc

imageHeight – the height in pixels of your image sequence, eg, 720, 1080, etc

aspectRatio – if you'd like a mask overlayed in RV, set your aspect here, eg, 1.777, 2.35, etc

matteOpacity – set the opacity for the overlay mask in RV. 0 for none, .5 for 50%, 1 for 100%, you get the idea.
Tips
Try making a popup list on a shelf button with different settings.
Sample Code
Standard HD with a 16/9 soft mask.
ebLabs_playBlastRV(1920, 1080, 1.777, .3);

Quick Preview with no mask.
ebLabs_playBlastRV(960, 540, 1.777, 0);

Code
//ebLabs_playBlastRV
//for playblasting with RV
//(c) Eric Bates 2012

global proc ebLabs_playBlastRV(int $width, int $height, float $aspect, float $opacity)
{
//make a playblast without launching fcheck
string $movie = `playblast -format iff -sequenceTime 0 -clearCache 1 -viewer 0 -showOrnaments 1 -offScreen -fp 4 -percent 100 -compression "png" -quality 70 -widthHeight $width $height`;

//spitout name of playblast for artist reference
print ("\nDude, wheres my last playblast?\n" + $movie + "\n");

//launch RV
system("rv " + $movie + " -eval 'use rvui; rvui.setMatteValue(" + $aspect + "); rvui.setMatteOpacityValue(" + $opacity + ");' &");

}


Code For Windows
*Make sure to put in the full path to your rv executable, as well as include escape characters. (You will need to put an extra \ before any single \ or spaces.)
//ebLabs_playBlastRV
//for playblasting with RV
//(c) Eric Bates 2015

global proc ebLabs_playBlastRV(int $width, int $height, float $aspect, float $opacity)
{
//make a playblast without launching fcheck
string $movie = `playblast -format iff -sequenceTime 0 -clearCache 1 -viewer 0 -showOrnaments 1 -offScreen -fp 4 -percent 100 -compression "png" -quality 70 -widthHeight $width $height`;
 
//spitout name of playblast for artist reference
print ("\nDude, wheres my last playblast?\n" + $movie + "\n");
 
//launch RV
system("start C:\\Program\ Files\\Tweak\\RV-4.0.11-64\\bin\\rv.exe " + $movie + " -eval 'use rvui; rvui.setMatteValue(" + $aspect + "); rvui.setMatteOpacityValue(" + $opacity + ");' ");
 
}